---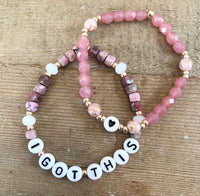 Handmade in NYC with pink and rose gold gemstone on elastic string. Each bracelet set purchase provides one dozen hand delivered 🚲💨 mini cupcakes to our Superheroes at local NYC hospitals. 
two 6 1/2 inch size bracelets  
NYC is the epicenter of our nation's war against the Coronavirus Pandemic Fight and our Healthcare Professionals and Hospital Staff are on the Front Lines. With your help, we can support our Superheroes with quick & sweet pick me ups throughout their long and very tough days. Each purchase provides 12 mini cupcakes hand delivered to local area hospitals in NYC. We are in this fight together. Stay Safe and Be Healthy!